STASH RECORDS, INC. ST-125
(日本語解説付輸入盤日本仕様:DIW-1168)
V.A.
The Stash Christmas Album
16 Blues and Jazz Classics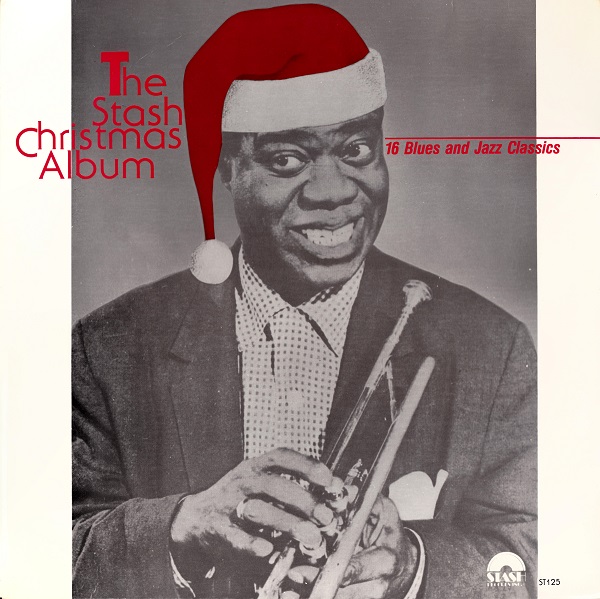 A-1:Lightning Hopkins / Merry Christmas (1953)
A-2:Clarence Williams' Blue Five / Santa Claus Blues (1925)
A-3:Ozie Ware with Duke Ellington's Hot Five / Santa Claus, Bring My Man Back (1928)
A-4:Putney Dandridge and His Swing Band / Santa Claus Came In The Spring (1935)
A-5:Harry Reser and His Orchestra / Santa Claus is Coming to Town (1934)
A-6:Paul Whiteman and His Orchestra / Christmas Night in Harlem (1934)
A-7:Ted Weems and His Orchestra / Winter Wonderland (1934)
A-8:Benny Goodman and His Orchestra/The Rhythmakers / Jingle Bells (1935) 
B-1:Fats Waller and His RHYTHM / Swingin' Them Jingle Bells (1936)
B-2:Lionel Hampton and His Orchestra / Merry Christmas Baby (1950)
B-3:Ella Fitzgerald / Santa Claus Got Stuck in My Chimney (1950)
B-4:Ella Fitzgerald / Cool Yule (1950)
B-5:Louis Armstrong and the Commanders / 'Zat You, Santa Claus (1953)
B-6:Louis Armstrong with Benny Carter's Orchestra . Christmas in New Orleans (1955)
B-7:Louis Armstrong / The Night Before Christmas (A Poem) (1971)
release:1985.
 *LPの画像はスキャナーで読み込んだものを貼り合わせているため実物と若干異なることがあります。
 *アーティスト、曲名等の表記(大・小文字を含め)はジャケット・レーベルの表記に準じておりますが、誤入力等はご容赦ください。