CAMDEN / 日本ビクター株式会社 CL 5011
V.A.
DIXIELAND and New Orleans JAZZ
ニューオーリンズ・ディキシーランド・ジャズの神髄 (レオナード・フェザー選)

A-1:Original Dixieland One-Step (オリジナル・ディキシーランド・ワン・ステップ) - The Original Dixieland Five
A-2:High Society (ハイ・ソサエティー) - Jelly-Roll Morton's New Orleans Jazz Men
A-3:Royal Garden Blues (ロイヤル・ガーデン・ブルース) - Wingy Manone and his Orchestra
A-4:What Is This Thing Called Love (これが恋かしら) - Sidoney Bechet and his New Orleans Feet Warmers
A-5:West-End Blues (ウエスト・エンド・ブルース) - King OIiver and his Orchestra
A-6:Lost (ロスト) - Mezz Mezzrou and his Orch.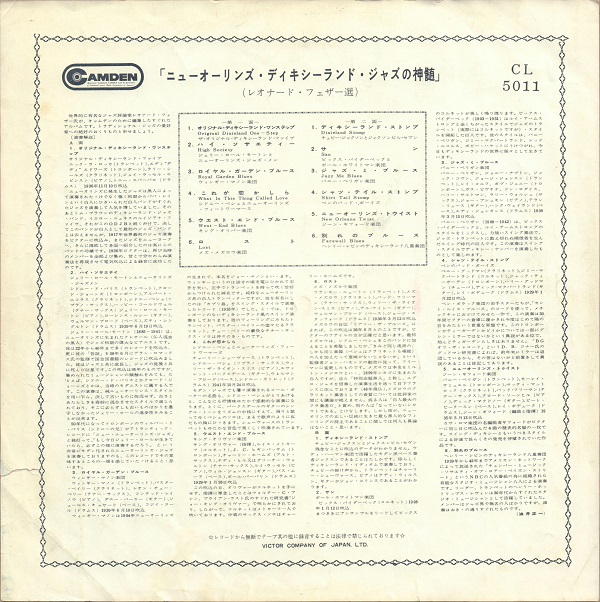 B-1:Dixieland Stomp (ディキシーランド・ストンプ) - Chubby Jackson and his Jacksonville Seven
B-2:San (サン) - Vick Beiderbecke with Paul Whiteman and his Orchestra
B-3:Jazz Me Blues (ジャズ・ミ・ブルース) - Bunny Berigan and his Orchestra
B-4:Shirt Tail Stomp (シャツ・テイル・ストンプ) - Ben's Bad Boys
B-5:New Orleans Twist (ニューオーリンズ・トゥイスト) - Gene Gifford and his Orchestra
B-6:Farewell Blues (別れのブルース) - Henry Levine and his Dixieland Octet of NBC's Chamber Music Society of Lower Basin Street
    original : RCA CAMDEN CAL-446 (USA) relreased : 1958.
    release:early 1960's? (MADE IN JAPAN)  
    Liner Notes : 野口久光

*LPの画像はスキャナーで読み込んだものを貼り合わ合成しているため実物と若干異なることがあります
*アーティスト、曲名等の表記(大・小文字を含め)、レコーディング・データなどはジャケット、レーベル、解説の表記に準じておりますが、誤入力等はご容赦ください。