BLUETIME / SWINGTIME BT 2007(CONTACT RECORD LABELS) [STEREO]
BIG JOE WILLIAMS
1935-1941
BABY PLEASE DON'T GO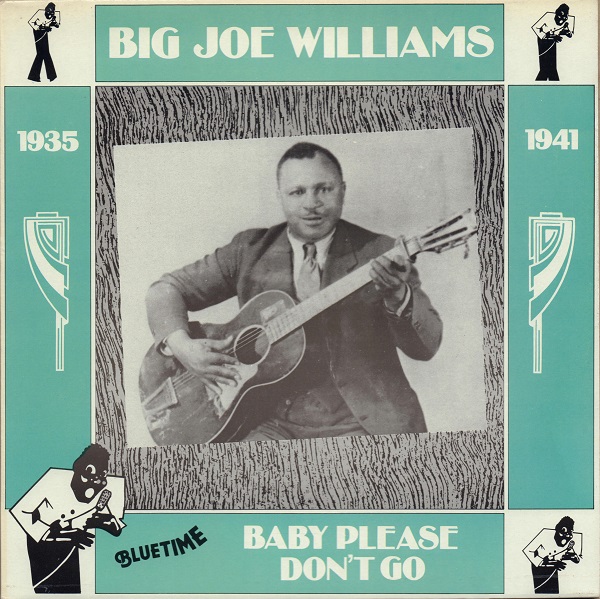 A-1:SOMEBODY'S BEEN BORROWING THAT STUFF
A-2:STRPAFTER BLUES
  with Henry Townsend,g
A-3:BABY PLEASE DON'T GO
A-4:WILD COW BLUES
  with Chasey Collins,g; Henry Townsend,g; "Kokomo",wbd.
A-5:I KNOW YOU GONNA MISS ME
A-6:ROOTIN' GROUND HOG
A-7:BROTHER JAMES
A-8:I WON'T BE IN HARD LUCK NO MORE
  with poss. Sonny Boy Williams,h; Robert Lee McCoy,g
B-1:CRAWLIN' KING SNAKE
B-2:I'M GETTING WILD ABOUT HER
B-3:PEACH ORCHARD MAMA
B-4:MEET ME AROUND HER 
  with William Mitchell,imitation b.
B-5:PLEASE DON'T GO
B-6:HIGHWAY 49
B-7:SOMEDAY BABY
B-8:BREAK 'EM ON DOWN
  with Sonny Boy Williamson,h ; Alfred Elkins,b
    THE CONTACT RECORD LABELS A.p.S. COPENHAGEN-DENMARK
    release:late-1980's ? (MADE IN ITALY)  
    Liner Notes : TERRY OHMEX
 *LPの画像はスキャナーで読み込んだものを貼り合わ合成しているため実物と若干異なることがあります。
 *アーティスト、曲名等の表記(大・小文字を含め)、レコーディング・データなどはジャケット、レーベル、解説の表記に準じておりますが、誤入力等はご容赦ください。